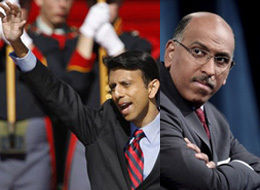 Well, here's the problem with with the current conservative movement.
When liberals/progressives criticize the response to the President's address to Congress, we criticize the tone of speech, the delivery and the facts versus the allegations/stories told within that response.
When conservatives criticize one of their own, they go straight for the racial stereotypes.
Thought out criticism on substance or knee-jerk fear mongering.
There's the choices. Any wonder why Democrats/liberals are maintaining/growing their popularity as reported in the most recent polls? There is much hope for our country yet.
About Slumdog Millionaire
Read the Article at HuffingtonPost