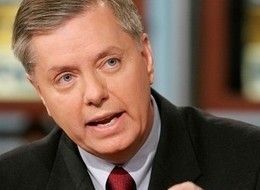 When I saw Sen. Graham say he thought bank nationalization needed to be kept as an option, I had to pause the DVR, laugh myself sick, rewind and watch again! Was it just me, or did Graham's eyes look bleary and bloodshot as if he'd had a good, long cry before the show? He looked genuinely hurt and humbled to say this.
Have we turned a corner here? Could you imagine Boehner doing something like this? Oh . . yeah. . . tears are not really an issue for Boehner . .that's right . .
BTW, I'm so tickled to have Rep. Waters as one of So. Cal's congresswomen! Loved how strong she sounded. And she kept her own shocked surprise at Graham's comments to a big grin. Better than I would've been!
Read the Article at HuffingtonPost