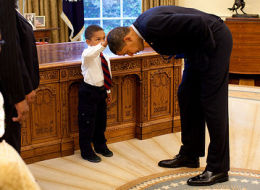 A few random thoughts over the first batch of photos:
1) What a joy to have a left-handed President!
2) The President really is engaged and doesn't seem to be gracing the meetings with his presence.
3) Does Michelle Obama EVER not look good?
4) Wow, what a gorgeous house!
5) It is just me or does Geitner look like he's getting scolded or berated ?
Read the Article at HuffingtonPost